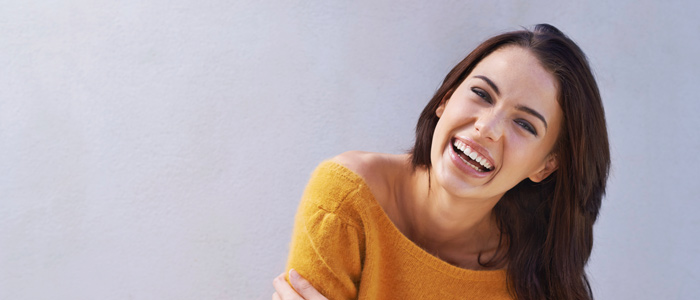 How Invisalign® Compares to Traditional Braces
Wear a new set of aligners about every two weeks and let Invisalign® take care of the rest! With Invisalign aligners, you can improve your mouth's appearance, function, and bite.
There are many differences between Invisalign and traditional metal braces. That's why we encourage you to explore your options for orthodontic treatment. You may also ask our Invisalign dentists about starting orthodontic treatment during your next appointment.
In the meantime, here's how Invisalign compares to traditional metal braces.
Unrestricted Diet
Invisalign clear aligners are removable. This means that you'll be able to continue eating your favorite foods. With metal braces, you'd have to avoid hard and/or sticky foods that could damage the wires and brackets. But you won't have these same limitations during Invisalign treatment.
The only caveat is that you'll need to brush your teeth after every meal to avoid staining your aligners. Otherwise, your aligners will yellow over time. You may also trap food against your teeth for hours at a time, which can increase your risk of cavities.
We recommend carrying a travel size toothbrush and toothpaste with you. That way, you're free to eat and brush your teeth while you're on the go.
Always remove your aligners before you eat or drink anything other than water.
Related: Invisalign Care Tips During the Holidays →
Designed for Comfort
Traditional metal braces may irritate your cheeks and gums. But Invisalign makes their aligners out of a smooth plastic. Each aligner is custom fitted to your smile, so they have a snug and comfortable fit.
During your first appointment with us, we'll use the iTero Element® scanner. This takes a precise 3D image of your teeth that Invisalign uses to make your custom aligners.
Invisalign makes all their aligners with their
. It's designed to apply gentle, constant pressure to move your teeth in a controlled manner. Invisalign also designed their SmartTrack material with comfort in mind.
That being said, it's normal to feel a bit of pressure on your teeth during the first day or so of wearing a new set of aligners. This is a sign that your aligners are working to move your teeth into their final positions. While the discomfort is temporary, please feel free to check out our blog post on how to make Invisalign more comfortable.
Clear and Discreet
Does the thought of wearing metal braces make you feel self-conscious? If so, Invisalign aligners may be a good alternative.
As the name suggests, Invisalign aligners are nearly invisible. Most people won't even realize you're wearing your
unless they're standing close. For this reason, Invisalign is popular with teens and adults.
Easier to Brush and Floss
It's not uncommon for patients with metal braces to neglect their oral hygiene. That's because it's hard to brush and floss around metal braces. But since Invisalign aligners are removable, you're able to brush and floss normally. This makes it much easier to maintain a healthy smile during orthodontic treatment.
Request an Appointment with Us
Aren't sure if Invisalign is right for you? Ask our Invisalign dentists in Shelby Township, Michigan, if you're a candidate for clear aligners. We're accepting new patients and would be more than happy to welcome you to our practice.
To request an appointment, please call the dental office of Frank P. Ruffino DDS at (586) 799-4240. You may also fill out our online contact form and someone from our team will reach out to you soon.
This blog post has been updated.