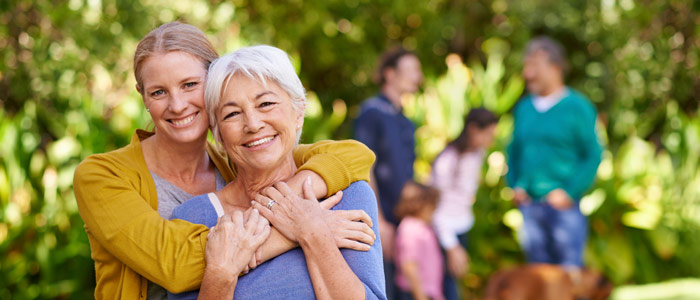 Dentures
Dentures are a removable replacement for missing teeth and adjacent tissues. They are made of acrylic resin, sometimes in combination with various metals.
Correctly placing dentures takes skill and experience. Our dentists are experienced in the placement of dentures and skilled in ensuring that they fit and function properly. If you have lost your teeth or are in danger of losing them, our dentists can help you examine your choices and choose the best option for your mouth and lifestyle.
Many people who wear full or partial dentures have difficulties with slipping, eating, or sores that all stem from the apparatus being poorly constructed or ill-fitting. Our Shelby Township dentists will provide high-quality full and partial dentures that will fit correctly, remain comfortable, and not move around when you eat.
Benefits of Dentures
Our Shelby Township dentists will ensure that they are the right shape, color, and size for a natural look and that the bite is correct so that you can talk and eat properly. Aligning the dentures correctly will also give you a more attractive look and prevent premature wrinkles around the lips or at the corners of the mouth.
are custom-made using quality materials that look natural and are durable. Our
Our dentists may recommend the use of mini dental implants to stabilize your dentures. This has the added benefit of deterring bone loss, which can cause eventual difficulties with wearing dentures, jaw problems, and even change the appearance of your face, giving it a sunken look.
Our dental professionals are experts in crafting and placing dentures and implants and will ensure that your implants secure your dentures to create the most natural fit and feel possible.
We can provide several types of dentures:
Complete: These replace all the teeth, while a partial denture fills in the spaces created by missing teeth and prevents other teeth from changing position. You can have them on your upper or lower jaw or both.
Partial: Suitable for those who have some natural teeth remaining that will improve chewing ability. These provide support for facial muscles and greatly enhance facial appearance and smile.
Immediate: These are inserted immediately after the removal of your remaining teeth. To make this possible, the dentist takes measurements and makes the models of your jaws during a preliminary visit.
Overdenture: A removable denture that fits over a small number of remaining natural teeth or implants. The natural teeth must be prepared to provide stability and support for the denture.
What to Expect
The denture process takes about one month and five appointments. Once the initial diagnosis is made, an impression and a wax bite are created to determine vertical dimensions and proper jaw position. Then, a 'try-in' is placed to assure proper color, shape, and fit. Finally, the patient's completed denture is placed, following any minor adjustments.
Over time, adjusting the denture may be necessary. As you age, your mouth naturally changes, which can affect the fit of the denture. Your bone and gum ridges can recede or shrink, resulting in a loose-fitting denture. Loose dentures can cause various problems, including sores or infections. The good news is that we can adjust your oral appliance if it doesn't fit properly. Avoid using a do-it-yourself kit to adjust your dentures, as this can damage the appliance beyond repair. Do NOT use glues sold over-the-counter as these often contain harmful chemicals.
Related: Should I Get Dentures or Dental Implants?
Request an Appointment With Us
Our family dentists in Shelby Township, MI, offer many different tooth replacement options so you can feel confident about your smile. To request an appointment, call Frank P. Ruffino DDS at (586) 799-4240.