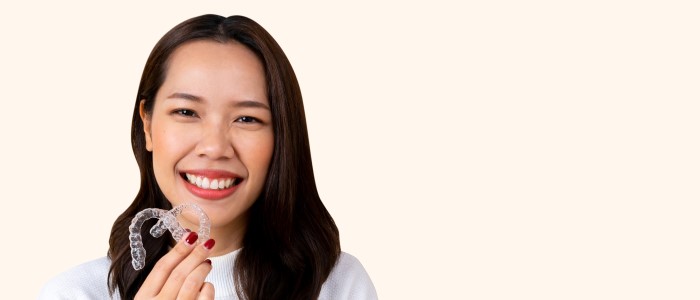 Invisalign® Care Tips During the Holidays
Autumn leads right into Halloween. Which then leads into Thanksgiving, Christmas, and New Years. Since we often celebrate with food, this can make it difficult to continue wearing Invisalign® as directed by our dentists.
Here's what you can do to set yourself up for success before the holidays arrive.
Remove Your Aligners Before Drinking Hot Beverages
Nothing is more festive than a mug of hot cocoa or a pumpkin spice latte. But you'll want to remove your
before the first sip. Otherwise, they'll stain.
Hot beverages can also soften and warp your aligners if you're not careful. This could alter the fit of your aligners and possibly move your teeth in the wrong direction, extending your treatment time.
Unless you're drinking water, you should always remove your aligners. Removing your aligners will also prevent any sugary liquid from being trapped between your aligners and your teeth. Whenever sugar is allowed to linger on your teeth, the bacteria in plaque will consume it and produce an acid that erodes your enamel over time.
The best way to protect your smile is to always brush your teeth after eating and before putting your aligners back in your mouth.
Eat Holiday Treats With Meals
Whether it's leftover Halloween candy or cookies in the break room, the holidays always bring plenty of opportunities to snack. The only problem is that you need to wear Invisalign braces at least 20 to 22 hours a day. Otherwise, you'll fall behind on your treatment plan.
Instead of depriving yourself, we recommend eating your holiday treats with meals. That way, you can still indulge in sweets while sticking to your Invisalign treatment plan. When you're done, just make sure to brush your teeth. In fact, it helps to carry a travel-sized toothbrush and toothpaste with you at all times.
Carry Your Invisalign Case With You
Make sure you never leave your Invisalign case at home. We've had plenty of times where patients have called us because they accidentally threw away their aligners.
The safest place for your aligners is in your mouth. But when you need to eat or drink, the second safest place for them is in their case. Placing your clear aligners on a napkin increases the risk of them being thrown out by accident. Putting your aligners in your pocket or purse could crush them.
If you misplace your case, don't hesitate to give us a call. We can give you a new case so you have a safe place to store your clear aligners.
Remember Why You're Doing This
Patients often
because they weren't happy with their original smiles. To them, Invisalign represents an opportunity to gain better self-esteem and change their lives for the better.
This year, you are giving yourself the gift of a beautiful, healthy smile. With each new tray in your series, you take one step closer to your goal. While it can be difficult to consistently wear your aligners, it'll be well worth the effort when you reach the finish line. Our Invisalign dentists and their team will cheer you on every step of the way!
Request an Appointment With Us
Our Invisalign dentists in Shelby Township, MI, would be more than happy to help you navigate the journey ahead. We are here to answer any questions or concerns you may have about your Invisalign treatment. To request an appointment, call Frank P. Ruffino DDS at (586) 799-4240.